Did you know that road accidents are the No. 1 cause of death for healthy Americans traveling abroad? According to USA Today's analysis of State Department data, on average, one American traveler dies on a foreign road every 36 hours.
The U.S. Department of State is working with the World Health Organization (WHO) and other multilateral organizations, with foreign governments, with other U.S. Government agencies, and non-governmental organizations on a number of initiatives to advance international road safety.
May 11, 2011 marks the official launch date of the Decade of Action for Road Safety, which was adopted in the March 2010 UN General Assembly resolution on Global Road Safety. The goal of the Decade of Action is to raise awareness of the impacts of road crashes on public health throughout the world and to promote interventions to reduce road crashes by 50% by the Decade's end in 2020.
For more information, visit WHO Decade of Action for Road Safety.
For traffic safety and road conditions in India, visit India Country Information on travel.state.gov
Make sure you have room for those entry stamps! Many countries require two to three available visa pages. Others require that your passport not expire for at least six months from your planned entry. Still others require American citizens to apply for a visa before reaching their border. Plus, many countries limit the length of time Americans are allowed to stay in a country as a tourist to a couple of weeks or months.
How can you know what the requirements or regulations are? Before traveling, always visit http://travel.state.gov to learn about country specific requirements.
Applying for extra visa pages is a fast process. When you fill out an application, visit a consulate or Embassy and pay the required fee, visa pages can usually be added to a valid passport on the same day. You may also apply by mail to have pages added. The application is available online at http://travel.state.gov/passport/forms/ds4085/ds4085_2662.html.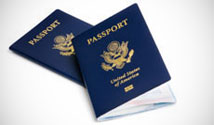 An increasing number of older U.S. citizens are traveling abroad. The U.S. Department of State wants you to be prepared so that you can relax and enjoy your trip. Please consider the following tips as you plan your travel. Additionally, if you plan on residing overseas, please review our information sheet on retiring abroad.
Know Before You Go
Travel Documents: Apply for a passport at least three months before you travel. If you have one, be sure to check the passport's expiration date and entry requirements for the countries you will be visiting. Some countries require that passports be valid for six months after your trip ends and some foreign countries require that U.S. travelers obtain a visa. Entry information for foreign countries is available at Country Specific Information.
Local Conditions: Extremes in climate can adversely affect the health of some travelers. So, too, can travel to high altitude locations As you travel, ask your tour operator or hotel about local conditions, including recommendations about taxis and other transportation options, restaurants, and the safety of local drinking water. Information on safe food and water precautions may be obtained from the Centers for Disease Control and Prevention's (CDC) hotline for international travelers at 1-877-FYI-TRIP (1-877-394-8747) or via the CDC website. You can find more information about particular food safety concerns in the Country Specific Information and U.S. Embassy or Consulate webpages.
Recent events around the world have many of us thinking about how we would handle a sudden crisis. Americans living in Egypt, Libya, Japan, Haiti and elsewhere have had their lives suddenly turned upside down.
In all of these cases consular officers with the U.S. Department of State have been present to lend a hand with preparing emergency travel documents, arranging for evacuation or simply helping family members keep in touch.
As you prepare your own family for a possible emergency, it may be useful to know what services the Department of State can provide to Americans living overseas — and what the department cannoto do. The department's travel hub, http://travel.state.gov, offers the following FAQ:
What is the Department of State's role during a crisis overseas? Do you always evacuate U.S. citizens during a crisis overseas?
The actions we take depend on the nature of the crisis. In some instances, we may only need to provide information on conditions in the country, such as warning about areas of unrest, how and where to seek help, and other useful advice. In more serious situations, we may recommend that U.S. citizens leave the foreign country, and, if commercial transportation is not available, provide departure assistance, as our resources permit.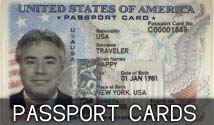 The U.S. passport card, a less-expensive and more portable alternative to the passport book, is proof of identity and U.S. citizenship. This travel document offers a convenient way for American citizens to re-enter the United States through land and sea ports of entry from Canada, Mexico, the Caribbean and Bermuda. But beware, the card is not valid for air travel of any kind or for travel within Europe and IS NOT a globally recognized travel document!
When outside the United States, the passport card can be used as valid citizenship identification. And because it's about the size of a credit card, it fits perfectly inside a wallet for easy carrying.
Adults who currently have valid U.S. passports may apply for the passport card. Visit our website to learn how to apply.
As spring break approaches, many students are preparing for a trip abroad. The State Department's website for students traveling overseas provides useful safety and travel information for parents and students alike: studentsabroad.state.gov.
The majority of students will have safe and enjoyable adventures. However, even on the best-planned trips, things can go wrong. Each year more than 2,500 U.S. citizens are arrested abroad, nearly half of them on narcotics charges, including possession of very small amounts of illegal substances. U.S. citizens have been badly injured or killed in accidents, falls, and other mishaps. Many of these incidents have been linked to alcohol and drug use. Other spring break vacationers have been sexually assaulted or robbed because they found themselves in unfamiliar locales, incapable of protecting themselves because of drug or alcohol use, or because they were victims of a "date rape" drug.
The most common cause of death of U.S. citizens overseas, other than natural causes, is by motor vehicle accident. Students traveling abroad should be aware that standards of safety overseas are different from those in the United States.
We urge all U.S. citizens traveling, studying, or residing abroad to sign up online for our Smart Traveler Enrollment Program (STEP). STEP enrollment makes it possible for the State Department to contact the student traveler in the case of a family emergency in the United States or because of a crisis in a foreign country.
Please see the Department of Homeland Security's web site www.getyouhome.gov for more information on the requirements for a passport, passport card, or other approved document to reenter the United States after travel abroad.