Make sure you have room for those entry stamps! Many countries require two to three available visa pages. Others require that your passport not expire for at least six months from your planned entry. Still others require American citizens to apply for a visa before reaching their border. Plus, many countries limit the length of time Americans are allowed to stay in a country as a tourist to a couple of weeks or months.
How can you know what the requirements or regulations are? Before traveling, always visit http://travel.state.gov to learn about country specific requirements.
Applying for extra visa pages is a fast process. When you fill out an application, visit a consulate or Embassy and pay the required fee, visa pages can usually be added to a valid passport on the same day. You may also apply by mail to have pages added. The application is available online at http://travel.state.gov/passport/forms/ds4085/ds4085_2662.html.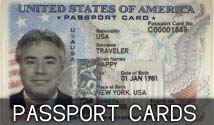 The U.S. passport card, a less-expensive and more portable alternative to the passport book, is proof of identity and U.S. citizenship. This travel document offers a convenient way for American citizens to re-enter the United States through land and sea ports of entry from Canada, Mexico, the Caribbean and Bermuda. But beware, the card is not valid for air travel of any kind or for travel within Europe and IS NOT a globally recognized travel document!
When outside the United States, the passport card can be used as valid citizenship identification. And because it's about the size of a credit card, it fits perfectly inside a wallet for easy carrying.
Adults who currently have valid U.S. passports may apply for the passport card. Visit our website to learn how to apply.