Recent events around the world have many of us thinking about how we would handle a sudden crisis. Americans living in Egypt, Libya, Japan, Haiti and elsewhere have had their lives suddenly turned upside down.
In all of these cases consular officers with the U.S. Department of State have been present to lend a hand with preparing emergency travel documents, arranging for evacuation or simply helping family members keep in touch.
As you prepare your own family for a possible emergency, it may be useful to know what services the Department of State can provide to Americans living overseas — and what the department cannoto do. The department's travel hub, http://travel.state.gov, offers the following FAQ:
What is the Department of State's role during a crisis overseas? Do you always evacuate U.S. citizens during a crisis overseas?
The actions we take depend on the nature of the crisis. In some instances, we may only need to provide information on conditions in the country, such as warning about areas of unrest, how and where to seek help, and other useful advice. In more serious situations, we may recommend that U.S. citizens leave the foreign country, and, if commercial transportation is not available, provide departure assistance, as our resources permit.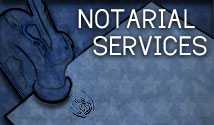 Consular officials at any U.S. embassy or consulate abroad can provide a service similar to the functions of a notary public in the United States. Notarial services can be performed for any individual, regardless of nationality, as long as the document being notarized is intended for use in the United States. The services provided include:
Affidavits: written declarations made under oath of affirmation; a sworn statement.
Acknowledgments: an acknowledgement of the signatures on documents that will be used in the United States attesting to the identity of the person executing the document. Generally used with deeds, powers of attorney, bills of sale, corporate acknowledgements, etc.
Certification of Photocopies
The fee is $50 USD for each notarization. Visit our website http://hyderabad.usconsulate.gov/notary_service.html for more information or to make an appointment.
Although we cannot authenticate U.S. documents such as birth certificates, marriage certificates, divorce decrees or death certificates, the U.S. Department of State Authentications Office may be able to assist you.
Visit their website http://www.state.gov/m/a/auth/ for further detail.