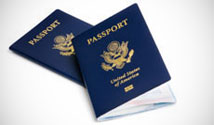 An increasing number of older U.S. citizens are traveling abroad. The U.S. Department of State wants you to be prepared so that you can relax and enjoy your trip. Please consider the following tips as you plan your travel. Additionally, if you plan on residing overseas, please review our information sheet on retiring abroad.
Know Before You Go
Travel Documents: Apply for a passport at least three months before you travel. If you have one, be sure to check the passport's expiration date and entry requirements for the countries you will be visiting. Some countries require that passports be valid for six months after your trip ends and some foreign countries require that U.S. travelers obtain a visa. Entry information for foreign countries is available at Country Specific Information.
Local Conditions: Extremes in climate can adversely affect the health of some travelers. So, too, can travel to high altitude locations As you travel, ask your tour operator or hotel about local conditions, including recommendations about taxis and other transportation options, restaurants, and the safety of local drinking water. Information on safe food and water precautions may be obtained from the Centers for Disease Control and Prevention's (CDC) hotline for international travelers at 1-877-FYI-TRIP (1-877-394-8747) or via the CDC website. You can find more information about particular food safety concerns in the Country Specific Information and U.S. Embassy or Consulate webpages.
Recent events around the world have many of us thinking about how we would handle a sudden crisis. Americans living in Egypt, Libya, Japan, Haiti and elsewhere have had their lives suddenly turned upside down.
In all of these cases consular officers with the U.S. Department of State have been present to lend a hand with preparing emergency travel documents, arranging for evacuation or simply helping family members keep in touch.
As you prepare your own family for a possible emergency, it may be useful to know what services the Department of State can provide to Americans living overseas — and what the department cannoto do. The department's travel hub, http://travel.state.gov, offers the following FAQ:
What is the Department of State's role during a crisis overseas? Do you always evacuate U.S. citizens during a crisis overseas?
The actions we take depend on the nature of the crisis. In some instances, we may only need to provide information on conditions in the country, such as warning about areas of unrest, how and where to seek help, and other useful advice. In more serious situations, we may recommend that U.S. citizens leave the foreign country, and, if commercial transportation is not available, provide departure assistance, as our resources permit.
Applications and technology make it easier to communicate critical information about the flu and its impact. The folks over at the Centers for Disease Control and Prevention are looking for an innovative use of technology to raise awareness of influenza and/or educate consumers on ways to prevent and treat the flu.
The CDC is challenging the tech-savvy among you to use CDC datasets and create new ways to use technology to combat influenza, be it for:
the web
a personal computer
a mobile handheld device
any platform broadly accessible to the open Internet.
Applications that best satisfy the competition criteria will receive cash prizes up to $15,000, and the opportunity to have their apps featured on the CDC website. Applicants are encouraged to mashup CDC data with any other publicly-accessible data feeds from around the web, and to be creative in exploring approaches for realizing the goals.
For more information, visit http://fluapp.challenge.gov/
A new post at the http://www.whitehouse.gov/ blog will interest many American citizens living in India:
Last week, in conjunction with the release of its annual Human Rights Report, the State Department officially launched HumanRights.gov, a new central portal for international human rights-related information generated by the United States Government.  HumanRights.gov was designed in the letter and spirit of President Obama's Open Government Directive issued in January 2009, requiring Federal agencies to take specific steps to achieve key milestones in transparency, participation, and collaboration. 
The Federal Voting Assistance Program Slogan and Poster Contests have closed with over 1,400 slogans and 150 posters submitted. FVAP staff has narrowed the field to the very best entries and needs you to vote for the winner. The finalists will be decided by a combination of your votes and those from members of the United States Congress.  A weighted scoring process will be applied with the public vote accounting for 60% and Congressional votes accounting for 40% of the total scoring.
The FVAP Slogan Contest called for slogan ideas that will inspire members of the military, their families and U.S. Citizens residing overseas to participate in elections while away from home. Please vote for the slogan/poster finalists now at http://challenge.gov/challenges/115.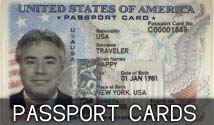 The U.S. passport card, a less-expensive and more portable alternative to the passport book, is proof of identity and U.S. citizenship. This travel document offers a convenient way for American citizens to re-enter the United States through land and sea ports of entry from Canada, Mexico, the Caribbean and Bermuda. But beware, the card is not valid for air travel of any kind or for travel within Europe and IS NOT a globally recognized travel document!
When outside the United States, the passport card can be used as valid citizenship identification. And because it's about the size of a credit card, it fits perfectly inside a wallet for easy carrying.
Adults who currently have valid U.S. passports may apply for the passport card. Visit our website to learn how to apply.
Robert O. Blake, Jr., Assistant Secretary of the Bureau of South and Central Asian Affairs, recently testified before the House Foreign Affairs Committee, Subcommittee on the Middle East and South Asia. In wide-ranging comments, Assistant Secretary Blake touched on a number of topics of interest to Americans living and working in India.
Some excerpts are below, but you can read the entire testimony at the state.gov Web site.
The United States seeks to deepen its strategic partnership with India, highlighted by President Obama's recent visit to Mumbai and New Delhi in November 2010. Mirroring India's economic and political dynamism, the entire region is in the midst of a positive trajectory towards prosperity and peace. The United States aims to bolster this regional progress by promoting greater integration, which can build ties that will reinforce democratic institutions, build economies, and enhance security.
This week's photo of the week comes to us from U.S. Embassy New Delhi and shows women participating in a self-defense class in India on March 22, 2011.
As Secretary of State Hillary Rodham Clinton has said, "The United States continues to make women a cornerstone of our foreign policy. It's not just the right thing to do. It's the smart thing. Women and girls drive our economies. They build peace and prosperity. Investing in them means investing in global economic progress, political stability, and greater prosperity for everyone-the world over. So let us …[find] ways to ensure women and girls' access to education, healthcare, jobs, and credit, and to protect their right to live free from violence."