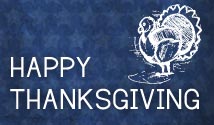 Happy Thanksgiving to everyone! One of the fun and often challenging things about living outside of the U.S. is adapting our holidays in each country we're in. Many of us here in Frankfurt have already visited the Kleinmarkthalle to pick up fresh cranberries, sweet potatoes and pumpkins, and some of us are skipping the big turkey altogether and getting Turkish food instead. Speaking of turkey and cranberry sauce, here are a few fun food facts about Thanksgiving:
• 248 million The number of turkeys expected to be raised in the United States in 2011. That's up 2 percent from the number raised during 2010. The turkeys produced in 2010 together weighed 7.11 billion pounds and were valued at $4.37 billion.
• 750 million pounds The forecast for U.S. cranberry production in 2011. Wisconsin is expected to lead all states in the production of cranberries, with 430 million pounds, followed by Massachusetts (210 million). New Jersey, Oregon and Washington are also expected to have substantial production, ranging from 17 million to 54 million pounds.
• 2.4 billion pounds The total weight of sweet potatoes — another popular Thanksgiving side dish —produced by major sweet potato producing states in 2010. North Carolina (972 million pounds) produced more sweet potatoes than any other state. If you do plan on cooking for Thanksgiving, check out a few suggested recipes here. Do you have any tips on finding the needed ingredients locally or fun activities for after the feast (other than taking a long nap)? How are you celebrating Thanksgiving this year in Germany? We invite readers to post comments.
1 Response » to "How do you celebrate Thanksgiving in Germany?"