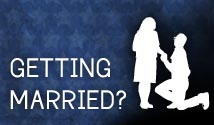 Q: I just met the love of my life, and we're getting married here in Germany. The Standesamt is asking for something called an "Ehefaehigkeitszeugnis" before the ceremony. What is this and where can I get it?
A: First of all, congratulations! We get this question all of the time. The "Ehefaehigkeitszeugnis" is an affidavit that you are legally free to marry, meaning that you aren't currently married to anyone else. You can get this document in the Embassy in Berlin or at one of the Consulates…just make an appointment by clicking here. You'll need to bring your passport with you and divorce papers if you were married before. There is a US$50 fee for this document. Good news if you live in Bavaria – you can take the oath on this document directly at the Standesamt, so you don't need to come to the Consulate to do it.
If you need more information on the marriage process in Germany, see our guide here.